Janet Wolff, L.C.S.W.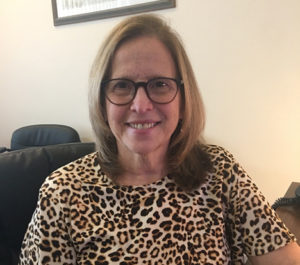 Ms. Janet Wolff is a Licensed Clinical Social Worker (LCSW) in the State of New Jersey. She received her Bachelor of Arts degree from Rutgers University, New Brunswick, New Jersey in 1978. After working several years in the field of human services she returned to school and earned her Master of Social Work degree from the Rutgers University School of Social Work, New Brunswick, New Jersey in 1984. She concentrated her studies in Clinical Casework, Administrative Practice and Policies, and Minored in Gerontology.
Ms. Wolff has over 35 years of experience working with clients affected by childhood abuse and neglect, addiction, anxiety, depression, trauma, violence, and behavioral and mental health challenges. She has assisted individuals and families manage the psychological effects of significant life changes related to loss of employment, chronic illness, homelessness, parenting, step parenting, divorce, grief, dementia and end-of-life issues.
She has worked in coordination with schools, courts, hospitals, nursing homes, long term care facilities, county offices and state agencies, Child Advocacy Boards, Mental Health Boards, Drug & Alcohol Boards and many Ocean and Monmouth County Mental Health Agencies.
Ms. Wolff is a Disaster Response Crisis Counselor for the State of New Jersey and a member of the Monmouth County Disaster and Critical Incident Response Team since 1996.
In a non-judgmental manner, Ms. Wolff utilizes her knowledge and experience to offer a safe space for individuals to explore their thoughts, feelings, issues and concerns. She feels that the foundation of the therapeutic relationship is built on respect and compassion. Ms. Wolff works with each individual to move toward their personal goals and obtaining a sense of well-being.
Ms. Wolff offers support, encouragement, and empathy throughout the therapeutic process. She believes that when someone engages in the therapeutic process it is a sacred place that is to be respected and valued.